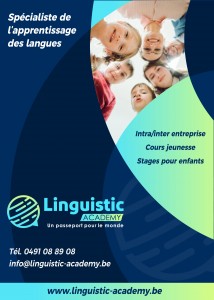 Training programme 2022-2023
Beginning at the start of the school year, we organise English and Dutch courses for children aged 4 to 12. Classes are taught on Wednesday afternoon and Saturday morning.
Our aim is to offer fun language activities that introduce children to a new foreign language through games, songs, DIY, etc.
All necessary material is provided by the Academy.
Our children courses are held for groups limited to a maximum of 8 kids.
Location
Linguistic Academy
Rue de la Faïence 1
5300 Andenne
Wednesday Schedule
13h30 – 14h30
14h30 – 15h30
15h30 – 16h30
Saturday Schedule
09h00 – 10h00
10h00 – 11h00
11h00 – 12h00
Tuition Fee :
€225 for a 30-hour course
Language courses are deductible.
All levels are welcome. Our courses are customised to suit student groups that are organised in accordance with their age.
Further information and enrolment at 0491 08 89 08, or info@linguistic-academy.be
Enrolment Form: